Free Home Security Checks on Offer for Our Elderly and Vulnerable
Elderly and vulnerable Islanders are being urged to sign up for free security checks after a number of scams have been reported.
The Bobby Scheme is up and running this week and is urging elderly and vulnerable Islanders to get in touch with them for safety and scam advice.
The charity wants to get the word out about the dangers of online and telephone scams after 50 per cent of the homes it visited recently have been targetted.
What scams have been reported?
One purports to be from the test and trace program and instructs you to pay for a coronavirus test online – which is free via the NHS.
One purports to be from TV licensing and asks you to pay a fee online to renew it.
Reports of people turning up on your doorstep and claiming work needs to be done to the front of your house.
Bobby Scheme fitters are urging Islanders over the age of 65 who are vulnerable or disabled to arrange a visit from the charity. It will also give security and fire prevention advice.
Theresa Pratt, General Manager of the Blue Lamp Trust which funds the Bobby Scheme, said:
"Our fitters don't just give advice and fit fire alarms or security locks, they also talk to the people they visit about staying safe online, explaining about email scammers. We are pleased to be getting all of our fitters back on the road because the need for our services within the community is as great as ever, if not greater."
Islanders being visited are now being asked to ensure all internal doors are left open and that there is good ventilation throughout their property.
Bobby Scheme fitters, who are all uniformed, vetted by the Hampshire Constabulary and carry identification cards, will also wear masks and gloves and will disinfect any hard surface they touch. As far as possible they will also ask clients to keep two metres away.
Anyone who is eligible for the scheme can request a visit via the website http://bluelamptrust.org.uk/referralform/ or call 03007770157
Parish Council and Friends supporting vulnerable residents
Godshill Parish Council is helping provide assistance to those vulnerable to the current virus situation.
If you need assistance or can volunteer to help, please contact either of the local volunteer coordinators:
Councillor Alison Child – 01983 840179
Isle of Wight Councillor Rodney Downer – 01983 854203
UPDATE (Sun 5 April):
Over this weekend this very helpful note above has been distributed to the whole of Godshill.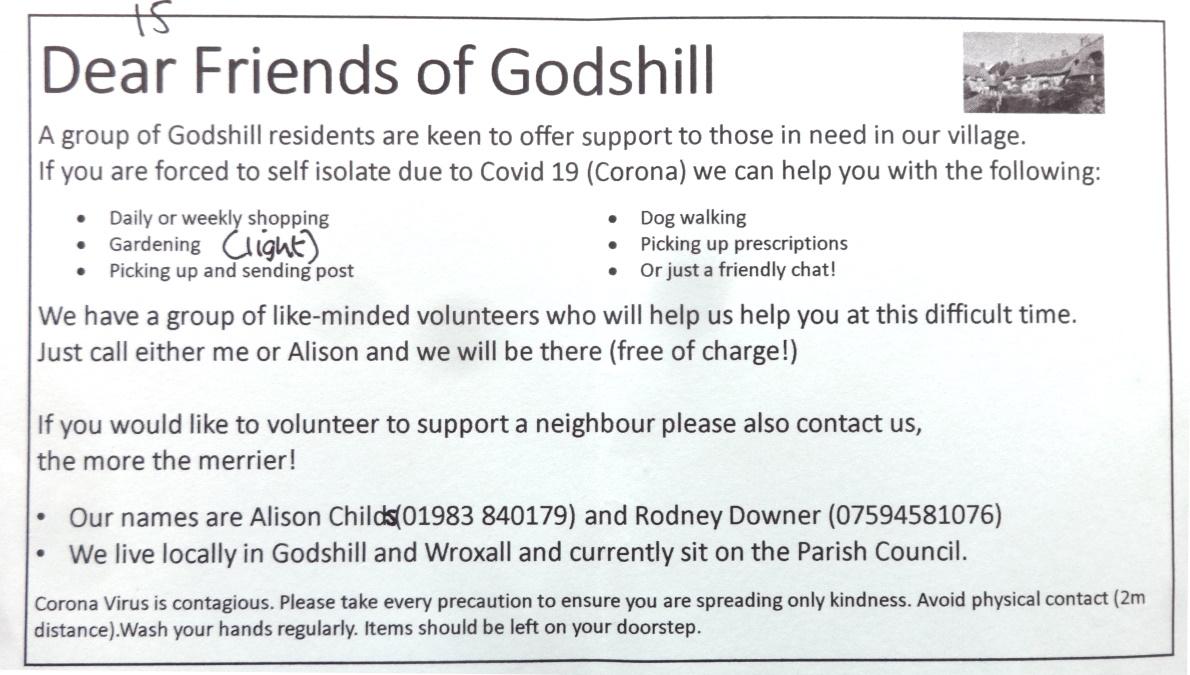 Please look out for your neighbours and help them to get in touch with Alison or Rodney if they need assistance or even just a friendly chat.
If you have some time available and are able to help with any of the tasks listed above, again, please give Alison or Rodney a call.